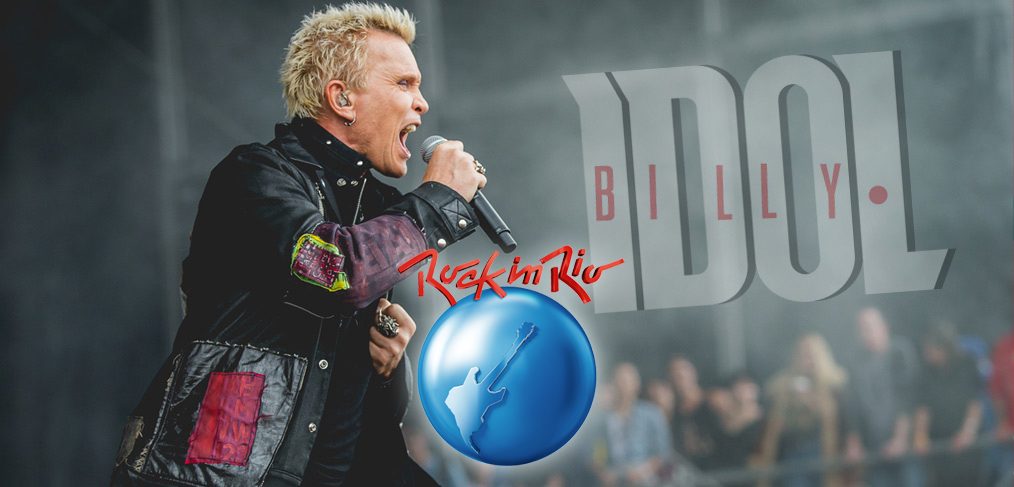 IDOL RETURNS TO ROCK IN RIO BRAZIL
PRESS RELEASE:
Rock in Rio: Billy Idol comes to the Palco Mundo (Main Stage)
The British rock icon performs September 21, 2017 in Brazil after 26 years
Rio de Janeiro, December 13, 2016 – A month after the Rock in Rio Card sales success, when 120,000 tickets sold out in less than two hours, the festival's organizers announce that punk rocker Billy Idol, along with his band featuring his longtime guitarist Steve Stevens, will perform at the event. With a career of more than 35 years and 40 million albums sold worldwide, the first and only time that the star performed in Brazil was precisely at Rock in Rio in 1991, which was held in Maracanã, where he presented a show that was very well acclaimed by the public and critics. After 26 years, the musician comes to the Palco Mundo on September 21, the same date as the band Aerosmith.
Billy Idol was one of the first pop/rock artists to achieve massive success in the early 1980s. The mix of his bad boy appearance, punk attitude and dance/pop rhythm set him off quickly to stardom becoming one of MTV's megastars. With multiple platinum albums around the world and nine top 40 singles in the United States and ten in the UK, including Dancing With Myself, White Wedding, Rebel Yell, Mony Mony, Eyes Without a Face, Flesh For Fantasy and Cradle Of Love, Billy was responsible for many of the most memorable and evocative moments of punk rock.
The musician returned to the limelight in 2014 with two releases that mark the latest installment of the long journey: his autobiography "Dancing With Myself," considered a bestseller by the New York Times, and the album Kings & Queens Of The Underground – the first with new songs from the artist in almost a decade. The work, has vibrant songs about sin, redemption and the love of Rock 'n' Roll, it includes incredible contributions from Steve Stevens and is produced by Trevor Horn with additional production from Greg Kurstin.
Details: http://rockinrio/rio