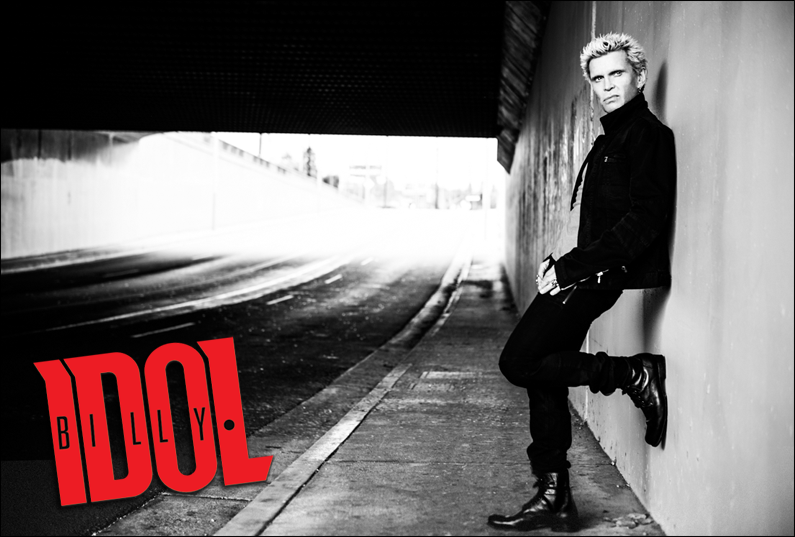 ABOUT BILLY IDOL
I am hopelessly divided between the dark and the good, the rebel and the saint, the sex maniac and the monk, the poet and the priest, the demagogue and the populist. I feel the pull of emotions when these characters appear in my actions. I can justify all of it to myself, but inside, where it really matters, the fullness and the void struggle to assert one another… this schism has enabled a birth of musical notes that fly on the wind, blaring in my mind.
The man who would become Idol, William Michael Albert Broad, was born in Middlesex, England on November 30, 1955, exactly 8 days after RCA Records bought Elvis Presley's contract from Sun Records.
When he was just two years old, William and his family moved to Long Island, New York. For four formative years (during which time Elvis joined the army, John Glenn jumped into space, and the call for equality rumbled from America's south), William Broad lived the picture-perfect life of a young American, clutching his coonskin cap and gazing at pictures of a handsome young President. When he was almost 7, William and his family returned to England. Although he was back in the land of his birth, his classmates called him "the Yank," and teased him for his "Yankee" accent; the die was cast for a life lived empathizing with the outsiders and the underdogs. That thread remains alive half a century later in the words and power of Idol's music.
As William came of age, England was emerging as the global epicenter for fashion, music, and youth. Through the 1960s and early '70s, William Broad embraced it all, from the tight trousers of the Mods to the snarling lips of the Rockers, from the aural inventions of the Beatles to the pop-art of the Who; later he graduated to the bold statements of Bowie and became an eclectic, investigative fan of everything from Captain Beefheart to Can. He filed it all away for future reference. Throughout high school, William taught himself how to play guitar and started singing in low-key local bands; it was beginning to dawn on him that music might not just be his passion, but the pathway to a career.
The summer months of driving for my dad during the day and rehearsing at night proved my dedication to the need in my heart and mind for an artistic life. I couldn't stand the idea of working for someone else's dreams. Even the fairly benign slavery of working for my father was not my idea of a life. I had the blues about society and wanted to express myself even if I didn't quite yet know completely how to accomplish it all.
Like many young people in England in the mid-1970s, William Broad had little reason to feel optimistic about his chances for employment, advancement beyond his class, or an artistically or emotionally fulfilling life. Of course, these very conditions created punk, but he didn't know that yet. What he did know was that he had a choice between working for his father delivering tools, or going to University. He chose the latter. Soon, he began playing guitar in a band that gigged largely in the school cafeteria.
My fear was mediocrity, being just another cog in the glorious system that would eventually grind our spirit down to dust. I refused to be a prisoner in a gilded cage from which there was no escape… I was determined to overcome my limitations, to stare my mediocrity in the face, to step up and dare to fail big, to go for the gold, live on the edge of uncertainty. At least I'd be alive to feel my own pain, as John Lennon had commanded… I lived inside my brain, a soulful person squashed by belittlement, failure at school, a failure to my parents. I had demonstrated only mediocrity, feeling the need to abandon their way of life with its fears and boldly go where no Broad had quite gone before.
One day, William encountered some interesting looking people on a train platform near his parents' house in the South London suburb of Bromley. Soon, he and his new friends – including Susan Ballion, later to be known as Siouxsie Sioux – became the earliest fans of a new band called The Sex Pistols.
William and his mates would achieve media notoriety as members of a much-photographed group of punk pioneers known as The Bromley Contingent, following the Pistols from gig to gig as they became the focal point of a worldwide scene-change in music. Then, like nearly all of his friends, he joined a band, becoming the guitarist for a new punk group called Chelsea.
However, William quickly grew dissatisfied with the way Chelsea's vocalist was singing the songs he and his co-writer, bassist Tony James, were writing. So in the autumn of 1976, Tony and William left Chelsea and together with guitarist Bob Andrews and drummer John Towe (shortly replaced by Mark Laff), they formed Generation X.
We, the new generation, were out to shake the foundations of the fabric of English life, a fist in the face of outdated rock'n'roll…the feelings of freedom, love and peace engendered in the '60s had given way to a police state mentality. A cold wind froze the hope and shriveled the testicles. We would need to grow bigger balls to deal with it.
In late 1976, as cultural history was being rewritten nightly in the streets of London, William Broad was reborn as Billy Idol. With his star-catching name and head full of peroxide spikes, Idol was an instant rock star. Few knew his adopted moniker was initially Billy Idle, a name originally given to him by a disparaging schoolteacher; even at the birth of this superstar, there was a self-deprecating little boy peaking out from behind the Idolatry.
Generation X would bring splashes of positivity, pop, and romance to a scene that had heretofore been defined by its' negativity, musical atonality, and nihilistic attitude towards the opposite sex. From celebratory anthems like "Youth Youth Youth" and "Ready Steady Go" to intensely personal essays like "The Prime of Kenny Silvers" and "English Dream," Generation X expressed a fearless desire to use the new music as a way of expressing vulnerability and an affinity with rock history, consistently evoking the optimism of punk's new beginning while rejecting the easy pessimism of punk's apocalyptic outlook.
In 1980, under the cloud of a lawsuit from their then-manager, Generation X split, but Idol and James chose to continue as Gen X (with assistance on the album, much of which foreshadowed the moods and deeper textures of progressive post-punk, from Steve Jones of the Sex Pistols, Steve New of the Rich Kids, Terry Chimes of the Clash, and Jamie Stevenson, who years earlier had replaced Idol as the guitarist in Chelsea).
For years, Billy had been intrigued by the idea of integrating the spacious and mobile grooves of dance music into his sound (in 1978, he had personally insisted that Generation X record a "dub" mix of their song "Youth Youth Youth"; this may have been the very first instance of a rock band applying Jamaican dub and dance remix techniques to a straightforward rock song).
This spirit of invention was especially alive in "Dancing With Myself," the extraordinary track that opened side one of the sole Gen X album.
The chords of "Dancing With Myself" were simple and not unlike the Ramones' "Blitzkrieg Bop;" the bass was even simpler, echoing Dee Dee Ramone; the guitars were strummed by some of punk rock's most famous players; and the vocals shivered and hiccuped like Suicide's Alan Vega channeling Elvis. But something astonishing was going on with the beat: it was pure dance club, having more in common with Chic than the Sex Pistols. In their pioneering mission to integrate the then-opposing cultures of rock and rock-steady, pogo and disco, Idol and James were assisted by producer Keith Forsey, who had worked closely (as a co-writer and recording engineer), with dance music pioneer Giorgio Moroder. The association with Forsey would prove very fruitful for Idol, and continue for another two decades.
Released at the onset of the 1980s, in a few magical minutes "Dancing With Myself" brought together all the divergent tribes of the 1970s and created a compelling and original object of its time that achieved timelessness. Although "Dancing With Myself" did not break any sales records at the time of its' initial release, it created a remarkable stir in clubs throughout the world, where DJ's were beginning to redefine what dance music would sound like in the decade to come.
With the commercial failure of Kiss Me Deadly (and the original release of "Dancing With Myself"), the brief, colorful, and tuneful life of Gen X/Generation X came to an end. It was time for a new beginning.
Like his father before him, Billy Idol decided to re-start his life in America. In 1981, 26 year-old Billy landed in shabby, crabby, cracked, wrecked and wonderful Manhattan. Idol heartily embraced the subway lows and skyscraper highs promised by the lyrics of Lou Reed and Patti Smith. It was a brave move for a man without a band and only very limited cult success in his new country. But "Dancing With Myself" had cleared a path for him.
After initially combusting on the dance floors of late-night New York City clubs like Hurrah, Area and the Mudd Club, the song was re-released as an Idol solo release, followed shortly by the thumping, shaking "Mony Mony." Although Billy Idol wasn't exactly conquering the American charts yet, he had planted his flag firmly on new shores, and was beginning to attract significant attention for his blend of melody, rhythm, and attitude.
Idol's keen sense of cultural trends and his charismatic ability to lead the way placed him in the ideal position to capitalize on an extraordinary new outlet for music called MTV. Idol was the right man at the right time, creating camera-ready music made credible by his punk rock back-story and take-no-prisoners attitude. Soon, he was as familiar a face on American TV screens as the cowboy heroes of his Long Island youth. With an extraordinary sidekick — guitarist Steve Stevens, whose sparks of glam and skill made him a perfect companion in Billy's campaign to conquer America – it all exploded into a platinum supernova of raised fists and soaring choruses.
Billy Idol began the 1980's in an apartment on Manhattan's then-grubby Upper West Side furnished with only a mattress on the floor and a black and white TV; he ended the same decade with numerous platinum albums and sold out tours worldwide. He garnered three Grammy nominations, one MTV Video Music Award (and ten nominations), and a prestigious Brit Award. From 1982's "White Wedding" and "Hot In The City" (both of which landed in America's Top 40) to 1984's anthemic "Rebel Yell" and seductive "Eyes Without A Face" (the latter reaching # 4 in the U.S. charts), followed quickly by "Flesh for Fantasy" and "Catch My Fall," straight through to 1986's "To be A Lover," Billy Idol racked up an extraordinary run of hits. In 1987 his recording of "Mony Mony" reached number 1 in the Billboard singles charts and he followed in 1990 with "Cradle of Love," which reached number 2.
A lot of people from every echelon of society misbehaved in the 1980s. Billy Idol was no exception; he lustily embraced the clichés that came with being an International rock star in the City That Never Slept.
When I was in your front room
On MTV, baby
I was high as the moon
Sold all my vinyl
It went up my arm
And I thought rock and roll
Couldn't do me no harm
—From Kings & Queens of the Underground, the title track from Billy Idol's latest album.
In 1987, Billy Idol left New York City, where his rock'n'roll dreams and his bad habits had flourished side by side, and moved to Los Angeles. Billy's predilection to go faster, go higher, and get wilder found even further voice in the Dreamland.
Billy Idol was a half-man, half-child, living every boy's dream of fast bikes, loud music, and beautiful women. Somewhere, somehow, he was certain to crash. And in February 1990, at the conclusion of the recording sessions for Charmed Life, a horrific motorcycle accident nearly took Billy Idol's life (and came perilously close to taking his leg, along with costing him a major role in James Cameron's Terminator 2). More brushes with mortality and misadventures involving drugs followed, yet the high profile partying continued. However, the creative instincts that always kept Billy one step ahead of the cultural and technological zeitgeist continued to thrive, despite the toll two decades of high living had taken on Billy's body and soul.
In 1991, Idol acted in Oliver Stones' film The Doors (he also appeared as himself in a celebrated cameo in 1998's The Wedding Singer). And in the '90s and beyond, Billy Idol released two of his most noteworthy records: 1993's Cyberpunk was far ahead of its time; its' lyrical themes and direct-to-computer-user marketing strategy anticipated the the affect of the world wide web on music culture and social media by more than a decade. It should come as little surprise that Idol's far-sighted vision of a future dominated by software and social networking went over the head of most critics (and even some of Billy's long-time fans). Ten years later in 2005, Devil's Playground was Idol's most raw album since the first Generation X record; a raunchy and basic rock'n'roll record, it combined the slurring chomp of Johnny Thunders' Heartbreakers, combined with the knowing leer of the Sunset Strip.
The new millennia saw a perspective change for Billy Idol. The well-loved sneer and the pioneering creativity remain, but the dial has been effectively turned down on the demons and decadence.
2014 sees Billy Idol not only getting back into gear and returning to form, but mastering new forms. Idol's autobiography, Dancing With Myself, tells of all the ups and downs of the man who is, was, and forever would be Idol. From the basements where punk rock was born to the Hollywood Hills, from partying with the Rolling Stones to a deathbed reconciliation with his father, Dancing With Myself is a full and honest picture of a life lived loving, playing, and almost dying for rock'n'roll.
Idol's new album, Kings & Queens of the Underground, is instantly recognizable as classic Idol and recalls his very best work, but with a healthy dose of maturity, musical depth, and charismatic reflection. Kings & Queens of the Underground hums with aggression, subtlety, rhythm, romance, and roar, as Billy continues his mission, with Steve Stevens at his side, to find a musical lexicon that integrates half a century of rock history into an artful, original, attractive noise.
I'm ultimately set free by a dream for a life that overcomes my limitations and can make me glory in any success I might have which proves me right. The peaks are so high, and the valleys so low, that it becomes easy to question my own sanity. Freedom is not free. Achieving that state of grace can numb the mind and destroy it.
Billy Idol is back again, never having left. He's always been with you, every time you wanted to share with someone the feeling rock 'n 'roll gave to you.
Biography by Timothy Sommer. Quotes taken from Billy Idol's autobiography Dancing With Myself