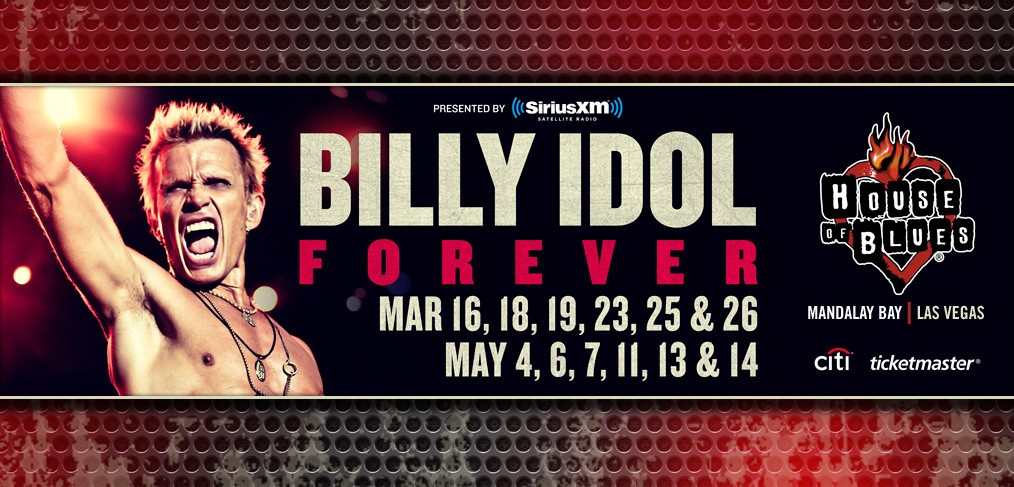 ON SALE NOW – BILLY IDOL: FOREVER – LAS VEGAS 2016
Las Vegas (November 9, 2015) – Billy Idol will take the stage of the intimate House of Blues Las Vegas at Mandalay Bay Resort and Casino for his first-ever multi-date residency, Billy Idol: Forever.
Billy Idol: Forever will feature Idol, his longtime guitarist Steve Stevens, and the rest of Idol's band at the top of their game, performing songs from throughout Idol's extensive catalog, including "Rebel Yell," "White Wedding," "Dancing With Myself," and many more.
Says Billy Idol about his upcoming Billy Idol: Forever engagement: "Watch out Vegas! We are planning a beast of a show that will rock and surprise my fans. Particularly those who adhere to the "what happens in Vegas stays in Vegas" mantra!"
Billy Idol: Forever comes to Las Vegas at the House of Blues on the following dates in 2016:
• March – 16, 18, 19, 23, 25, 26
• May – 4, 6, 7, 11, 13, 14
Tickets are on sale now.