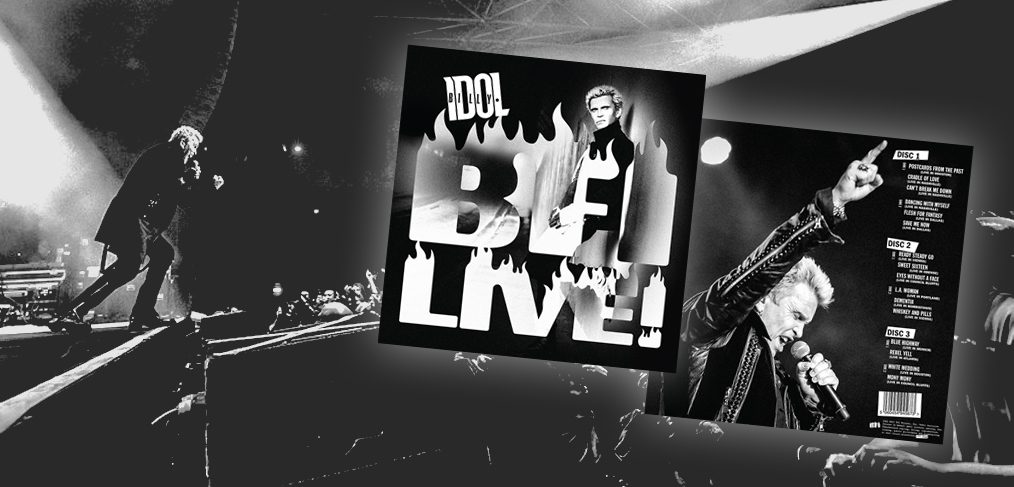 BFI LIVE! 3-LP SET COMING NOV 25
BFI LIVE! is a 3-LP set featuring 16 tracks recorded live during the 2014-15 Kings & Queens of the Underground Tour! This vinyl-only 3-LP release is a Record Store Day Exclusive and each Limited Edition set comes individually numbered and will be available at participating indie Record Store Day retailers in the US and Canada on November 25, 2016! There will be no CD or digital version available for purchase.
On December 9, 2016, a very limited number of the BFI LIVE! 3-LP set will be available for purchase worldwide via the Official Billy Idol online shop at billyidol.net! Also on December 9 BFI LIVE! will be via available for listening via streaming audio for all free and paid subscribers to digital music streaming services such as Spotify, Apple Music, and Google Play.
LOCATE PARTICIPATING RECORD STORES
TRACK LISTING:
LP DISC 1
Side 1:
Postcards From The Past
Cradle Of Love
Can't Break Me Down
Side 2:
Dancing With Myself
Flesh For Fantasy
Save Me Now
LP DISC 2
Side 1:
Ready Steady Go
Sweet Sixteen
Eyes Without A Face
Side 2:
L.A. Woman
Dementia (Steve Stevens guitar solo)
Whiskey And Pills
LP DISC 3
Side 1:
Blue Highway
Rebel Yell
Side 2:
White Wedding
Mony Mony