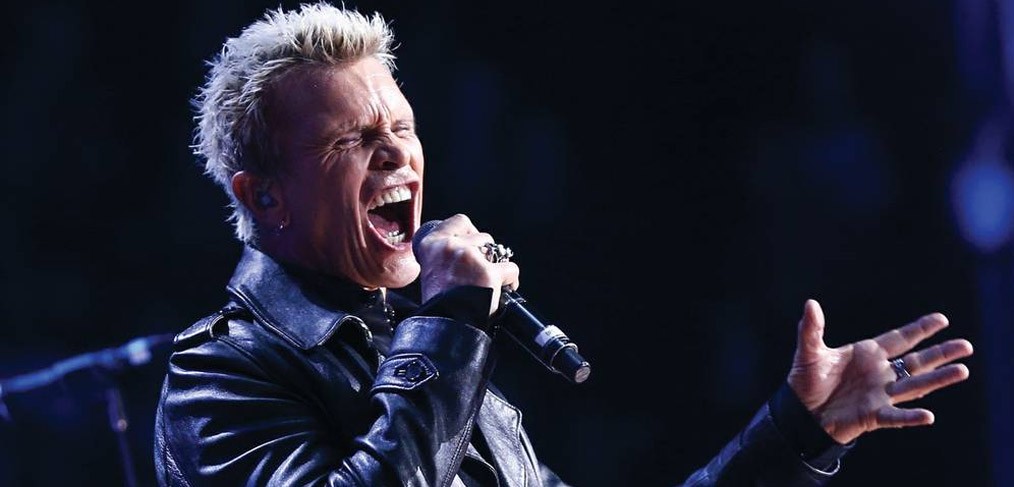 BILLY IDOL BRINGS UNBRIDLED ENERGY
BILLY IDOL BRINGS AN UNBRIDLED ENERGY TO HIS HOUSE OF BLUES RESIDENCY
John Katsilometes, Las Vegas Weekly (Photo: John Salangsang/Invision/AP):
Even during a phone conversation, you feel Billy Idol is pumping that leather-clad right fist. More, more, more.
He's not to be stopped, the 60-year-old rock star who unleashed a string of hits in the early and mid-1980s that still stand today. Idol effectively name-checks a few of those classics later in the conversation to promote his upcoming House of Blues residency. He sweeps onto the Strip this week with his production, titled Billy Idol: Forever, and it's reportedly doing brisk sales. He's back in May, and this week even more shows were added for August, September and October. Some highlights of our chat:
I saw you in 1982 in Chico, California, at Acker Gymnasium at Chico State University. The next time I saw you was in 2010 at the Pearl at the Palms, 28 years later, and you'd lost none of your energy. How have you been able to keep up your exuberance throughout your career?
I think it has a lot to do with the music, and the intent behind the music. Coming from punk rock, there is a belief that the energy in the music has always got to be fresh and alive. It can never be done just by painting by the numbers. No going through the motions … But you're talking about the White Wedding Tour first, and then 2010—I can't even imagine that gap in time.
You still have the great guitarist, Steve Stevens, too.
You have to have great people around you. They get up there with you and make you want to give your all. Steve is that way. I have to give my all when he is onstage with me.
How can you ensure that someone like yourself is able to properly share the attention and the spotlight with Steve, because he really is a dominant performer?
Again, in punk rock it isn't all about you. It's much more about you with the other people onstage, about the audience and everyone being together somehow. The fantastic thing about having Steve Stevens as a foil up there is, he can take over if I am even for a second lagging for a little bit. He is always right there, and can take the audience. And if he's feeling like that, I can take the audience. That's why the show moves the way it does. That's an exciting thing. It gives you a great deal of freedom, and it's not all on me.
What are the songs you really love to play, regardless of their popularity, even those that might not have been released as singles?
It's always fantastic to play things like "Rebel Yell," or "White Wedding" or "Blue Highway." They are just fun songs to play. "Eyes Without a Face," "Flesh for Fantasy." … A lot of them are the ones that have really lasted the test of time. There seems to be an inherent freshness built into them. I don't know if I'm just being biased or prejudiced (laughs), but I feel they are particularly fresh songs, still.
Early on, did you ever expect to be playing at this stage of your life?
Not at all. There was never that type of expectation, that you would be playing after almost 40 years. Everything we have done has been so much in the moment, whether you're talking about 1982 or 1985 or 1990 or whenever. The fact that we are here all these years later and the songs still resonate with the fans is fantastic to me.
What are you listening to now?
I listen to a lot of older music, of course. A lot of classic rock, classic reggae. But I also like something like Kendrick Lamar. I can find things in the modern idiom that I kind of like, and I can see what kind of fun they are having today with the sonic range of recorded music today.
continued…