BILLY IDOL "HAPPY HOLIDAYS" AVAILABLE NOW!
Billy Idol's remixed and remastered version of his Christmas album, Happy Holidays, is available now for the first time on vinyl and streaming platforms via Dark Horse Records. Originally released in 2006, the album features Idol performing a wide variety of Christmas classics as well as the new original bonus track, "On Christmas Day," which features Steve Stevens on guitar.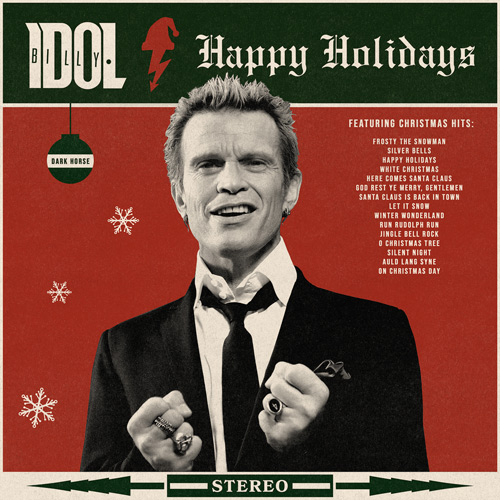 Produced by Idol and Brian Tichy, the new release of Happy Holidays has been remixed and remastered by Paul Hicks, known for his work remixing classic records from The Beatles, George Harrison, John Lennon, and The Rolling Stones. Happy Holidays has also been packaged with new artwork and is available for purchase on black vinyl, CD, digital, and on limited edition white vinyl.
"Before our 2006 European tour, I recorded a number of seasonal songs," recalls Idol. "A tree-trimming, fireside, Christmas Eve, Christmas Day intimate album was the result. Most probably essential at Christmas, is that the music is in the spirit. Knowing that family, friends, and children might be listening, I wanted a selection that would please all, while still exploring the awe and mystery that is Christmas."
Happy Holidays is available now on CD or vinyl LP in the official store!
Happy Holidays tracklist:
1. Frosty The Snowman
2. Silver Bells
3. Happy Holiday
4. White Christmas
5. Here Comes Santa Claus

6. God Rest Ye Merry, Gentlemen

7. Santa Claus Is Back In Town

8. Let It Snow

9. Winter Wonderland

10. Run Rudolph Run

11. Jingle Bell Rock

12. O Christmas Tree

13. Silent Night

14. Auld Lang Syne

15. On Christmas Day*
*New original track featuring Steve Stevens on guitar.