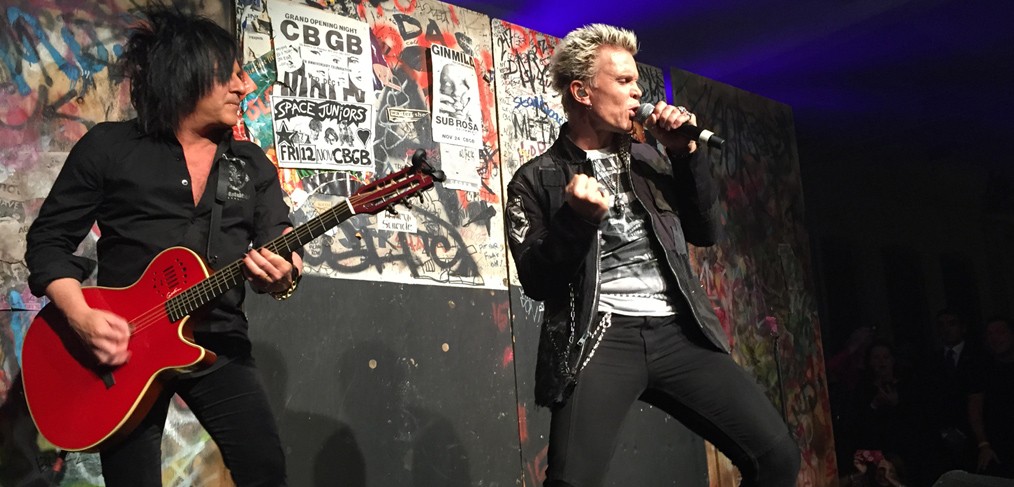 BILLY & STEVE PERFORM AT CBGB FEST
Billy Idol and Steve Stevens performed a searing acoustic set for a sell-out crowd in New York City to kick off the 2014 CBGB Music & Film Fest. The unplugged set featured "White Wedding", "Kiss Me Deadly", "Eyes Without A Face" and "Rebel Yell". Prior to the performance Billy was interviewed on stage by Timothy Sommer about his newly released autobiography, Dancing With Myself.
While covering many topics, Billy touched on the era of CBGB and the punk scene that was happening in NYC in the mid '70s through early '80s.
"When I first saw The Sex Pistols they were doing a Tuesday night residency some place with hardly anyone there!", Billy said. "They were doing mostly covers then, mostly The Who songs or Small Faces, and Johnny would take the lyrics and instead of singing 'I want you to know that I love you baby' he'd sing 'I want you to know that I hate you baby'. And I think it just revolutionized how songs could be presented, and how you could make negativity positive, it was fantastic. We had really been into Velvet Underground and The New York Dolls, who were influencing artists like David Bowie and then Iggy & The Stooges and MC5. So I knew about all that. By the late '70s we would hear and see The Ramones, Blondie, and The Talking Heads at CBGB. We loved what was going on in New York. That's why we wanted to get into punk rock because we knew very much it was all being inspired by what was going on in New York. New York was not only the mecca of punk and music, but living in England, you knew this is where so much great music had come from."
For more details and ordering information on Billy Idol's autobiography, Dancing With Myself click here.
Check out some photos and video from the event below…