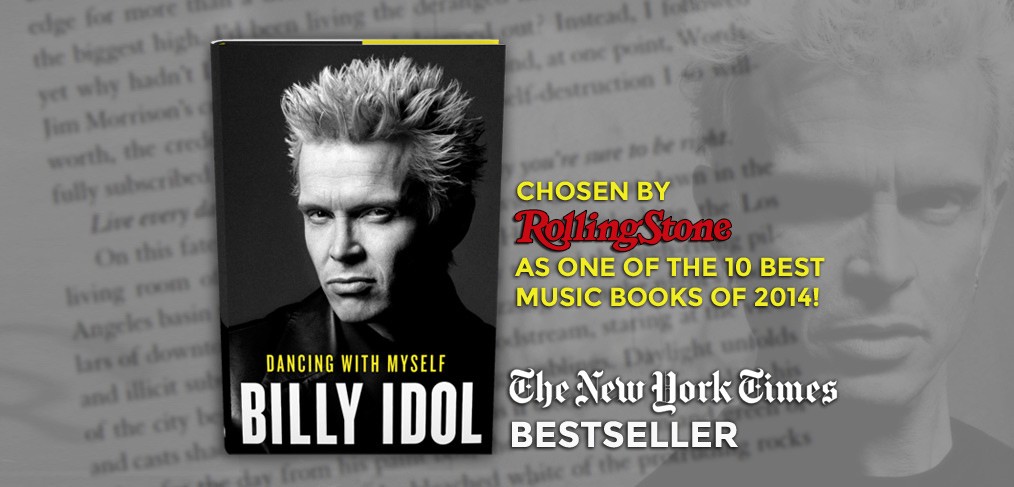 BILLY'S BOOK A TOP 10 OF 2014
Billy Idol's self-penned New York Times bestselling autobiography Dancing With Myself was selected as #5 on Rolling Stone's "10 Best Music Books of 2014." (Actually, #1 of all self-penned autobiographies if we're keeping track).
From RollingStone.com:
"In 2014, the rock star tell-all autobiography train rolled on with Jimmy Page, Joe Perry, Carlos Santana, Mick Fleetwood, George Clinton, Paul Stanley and Billy Idol among others all getting their turn. But some of the years best books were the stories you didn't already know, including a great alternate history from Greil Marcus and a closer look at a post-punk pioneer.
In his self-penned memoir, Billy Idol fleshes out his charmed life with an even mix of thrilling tales of sex, drugs and rock & roll. The singer is refreshingly candid about his heavy heroin addiction in the Eighties, a regrettable Rolling Stone cover story interview when he got too drunk and yelled at the writer, an unrequited threesome that landed him in court on sexual deviancy charges and the harrowing motorcycle accident that stymied his acting career (he says he'd tried out for the T-1000 in Terminator 2 but lost the role due to a limp). He also recounts some of the weird stories behind some of his greatest hits — "Dancing With Myself" was inspired by a Tokyo disco where people stared at themselves in mirrors and "Rebel Yell" was named after a whiskey he drank once with the Rolling Stones. He also writes about his post-drugs fallout in such a heartfelt way that he almost makes a case for reconsidering Cyberpunk."
View the complete list on RollingStone.com