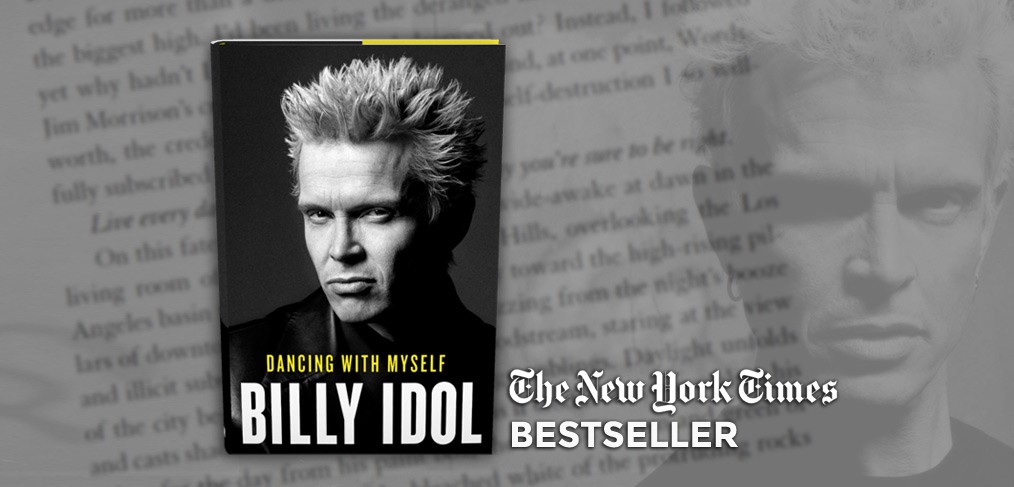 DANCING WITH MYSELF SWEEPSTAKES WINNERS
The winners have been announced for the Dancing With Myself book sweepstakes! The winners below should be looking out for an email from a representative from Billy's publisher Simon & Schuster (Touchstone) with further details regarding receiving your prizes.
Update From Touchstone Books (11/19/14):
We are still waiting on prize information and do not have a timeline yet for when we can mail prizes. We will contact winners for their addresses when we have more information! Thank you for your patience!
GRAND PRIZE WINNER:
Billy Idol VIP Fan Experience Concert Trip
Sheri Thomas
FIRST PLACE WINNERS:
Limited Edition Billy Idol Screen Print
James Sykes
Roberta G Messman
Alyssa Smith
Petra Keough
Christine sides
Daniel Fabrizius
Melissa Tucker
Paul Morales
Margaret Peggy Livingston
Susan Bertrand
Carole Tonks
David A Silva
Carl Bartlett
Barbara LaComette
Constance Boyer
Jennifer A Nunnelee
Donna DeVito
Janet B Rowell
Nancy Chinavare
Paul Sweeney
Tricia Duerig
Maria Younghans
Barbara Liu
Jamie Levin
Rocio Vila
SECOND PLACE WINNERS:
Idol Live Tshirt
Adrienne Rowland
Alissa Jesle
Amber Gray
Amy Davison
Barbara LaComette
Beata Sokolowska
Becky Kraegel
Bridget Guddat
Cheryl Kleman
Christian Romahn
Christopher Denk
Cindy Robinson
Clay Morgan
Crystal Dozer
Daniel Homer
Danielle Beech
Daun I Brophy
David Schweigert
Davida Heller
Dawn Riddell
Dean Crownover
Diana Martinez
Dina Ferreira
Donna Martz
Donna Schechter
Elizabeth Beech
Eric Reed
Frank Bardessono
Hans Heydorn
Heather Dougherty
Heather Hertaus
Heather Kane
Heather Teague
Jackie Benedict
Jamie Katzenstein
Jane Scarborough
Janel Bernotas
Jay Hanlin
Jayma Stembridge
Jeni L Elder
John DiTulio
Judith Williams
Kathy Fraser
Katie Hanson
Kelly Harvey-Lee
Kerry Stock
Kolleen Dockins
Kristen Sollee
Lance Davis
Laura Kahler
Laurie Roberts
Leslie V Winston
Lisa Welch
Lisette Thibodeaux
Lori Welch
Louise Giewont
Lynda Reynolds
Maria Rebelo
Marilyn Perry
Mary Catherine Fallabel
Melanie brown
Melanie Tranka
Michael Peter Smith
Michael Smith
Michael Ventarola
Mishelene Peper
Molly Feldman
Myra Almond
Nancy Davis
Nicholas Malta
Obadiah Greenberg
Pamela Mancuso
Patrick Watkins
Paul Sweeney
Phil Cagioppo
Raphaela Wilson
Regina Quinn
Renee Hammons
Richard Vorperian
Ryan Melander
Sarah Elliott
Sarah Hellman
Sarah Hughes
Sascha Hirz
Sharon Ganz
Stacy Wong
Stefanie Dobbert
Steve Dadolf
Steve Vickers
Surraya Khan
Teri Brennan
Teri Landegent
Terrence Harris
Thomas McGowan
Tony Barczak
Walter A Wade
Wendy Mosley
William Moyer
William Verigan