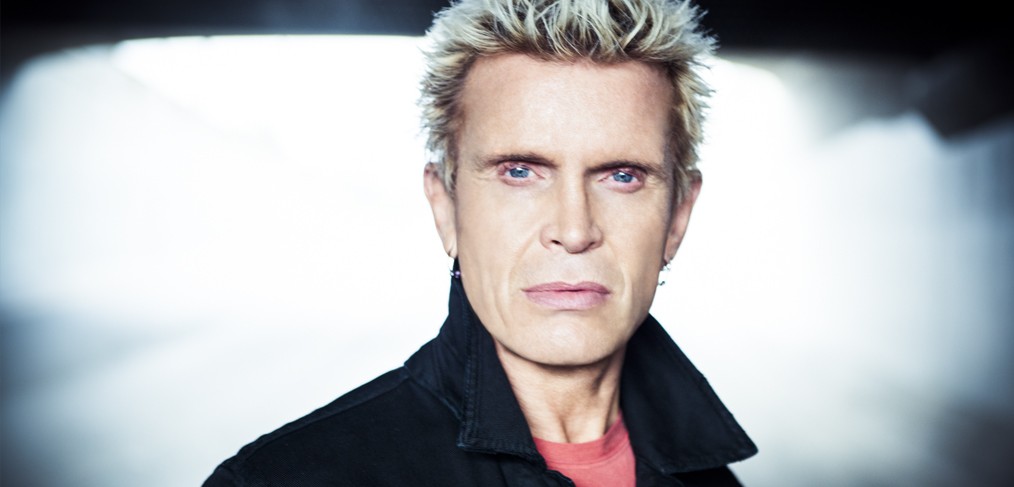 IDOL GETS HIGH OFF THE MUSIC
Vicki Anderson for Stuff.co.nz, New Zealand, 20 March 2015
Spiky peroxide-blonde- haired Billy Idol repeats the word "masturbatory" three times with a sneer.
The leather-clad rocker who led an MTV-fuelled generation is telling me about a disco in Tokyo, Japan, he visited in the late 1970s, when dance clubs were still in the passionate embrace of disco's Saturday Night Fever.
"We went to this dance club and these kids were all dressed up like John Travolta and dancing with themselves," Idol says chattily.
"They weren't dancing together, they were dancing to their own reflections. It was like a masturbatory kind of thing to do. If I haven't got a partner I can fixate on myself, dance with myself."
The experience led to the hit 80s hit song Dancing with Myself, which is also the title of his recently released autobiography. He challenged himself to write the book, he says, as his way of evoking something of a punk rock ethic.
"In the days of punk rock we believed in trying to do things yourself. I wondered if I could do it and I thought it might say something about me which would interest people."
Tapping out his life onto the page was a strange experience for Idol, 58. Of course it's lovely to remember the good things he says, huskily, but there were a number of life events that he'd rather forget.
"Some of it wasn't fun to remember. I had to own it all, whether it's good or bad. I made myself my own nemesis for good and evil."
MULTIPLE HITS
Idol has had 16 songs in the Billboard Top 40 and sold more than 20 million albums in four decades.
With over 40 years of rock 'n' roll stories and multiple hits under his studded belt, the book is a good read.
He wrote Rebel Yell, he says, after hanging out with the Rolling Stones at a party in New York.
"Ronnie Wood was holding a birthday party," Idol recalls. "I'm not quite sure which Rolling Stone it was for. At one point Ronnie Wood, Keith Richards and Mick Jagger were standing in front of me drinking this stuff called Rebel Yell."
He liked the way the phrase rolled off his tongue and asked the assembled members of the Stones if they would want to use it for a song title.
"They looked at each other and said 'no, I don't think we would use that'.
"I made it a song about a cry of love, a woman's passionate cry of love and about how powerful women are. They have the true power. I got a lot of slagging from the women's lib over White Wedding because there was a thing in the video where I put a barbed wire ring onto my girlfriend's finger.
"Rebel Yell was my way of showing them I wasn't anti-women, I made it a paean to women, like an anthem to the women's cry of love."
Idol once had an apartment in New York where no doubt, such cries were commonplace. He decided to decorate it himself. Naturally, it had black carpet and furniture. While he liked the aesthetic, it proved problematic.
"If I dropped something black on the floor like a T-shirt it would take me three weeks to find it," he says, laughing.
TOUGH-BLOKE IMAGE
Idol's new album Kings & Queens of the Underground is his life story in song.
"At the stage I'm at in my life I can look back quite a long way now, I'm in my 50s, hopefully I can look forward a long way too, but I use a lot of my life in the lyrics of the album. One song is the verse by verse story of my career."
There's a neat story about one new song, Sweet 16.
Idol read about "a chap named Ed Leedskalnin" from Latvia who was jilted at the altar by his sweetheart and built the Coral Castle in Florida.
Although Idol's got a reputation as a serial shagger – "yes, lots of one night stands", he says, sounding a little like a British pirate – the song Sweet 16 is an allegorical story referencing the break-up of Idol's long-term relationship.
Idol has kept his leather-clad tough-bloke image since his punk band days from Generation X.
But when he tells me the story behind Sweet 16, Billy Idol sounds sad.
"Through music you can exorcise your demons, that's the fun of songs, they help you with your life."
Hindsight is 20/20 but he wouldn't go back and change anything. However, drug addiction has been a major hurdle in his life. He has, for example, claimed he took acid for the first time at 13.
"You never get over it. You're never out of the woods, you just try to hold off from going crazy."
He overdosed a number of times, most notably collapsing outside a nightclub in the mid 90s having taking GHB, but, he says, when you're a junkie nothing scares you.
A motorcycle accident where he had a wild, out-of-body experience is also painful to think about.
But when he came back down to Earth he knew he had a second chance.
He got clean for his children and focussed on his music.
"Now I live for going on stage, that's the biggest drug, the biggest high. I still have a couple of drinks but I don't need to be up there drunk or f***ed up, I get high off the music, whether it's new music or old music."
NEW LEASE ON LIFE
Touring here in April with Cheap Trick and Doc Neeson's The Angels, Idol says he'll play four new songs and classics from throughout his career.
"I haven't been to new Zealand for a long time and I've never played in Christchurch before."
He's been singing some songs for decades but says he never tires of doing so.
When asked what he is most afraid of, there's a prolonged silence before he replies: "being bored". Cue Idol's trademark rebellious fist pump and sneer.
"The classic songs don't get old, maybe they do for other people, but I still get a buzz out of doing Rebel Yell or Eyes Without A Face or Flesh For Fantasy, new song Whiskey and Pills is a blast to do.
"When I do a concert, I get to present my whole life for you in music," Idol says matter-of-factly. "It gives me a new lease on life."