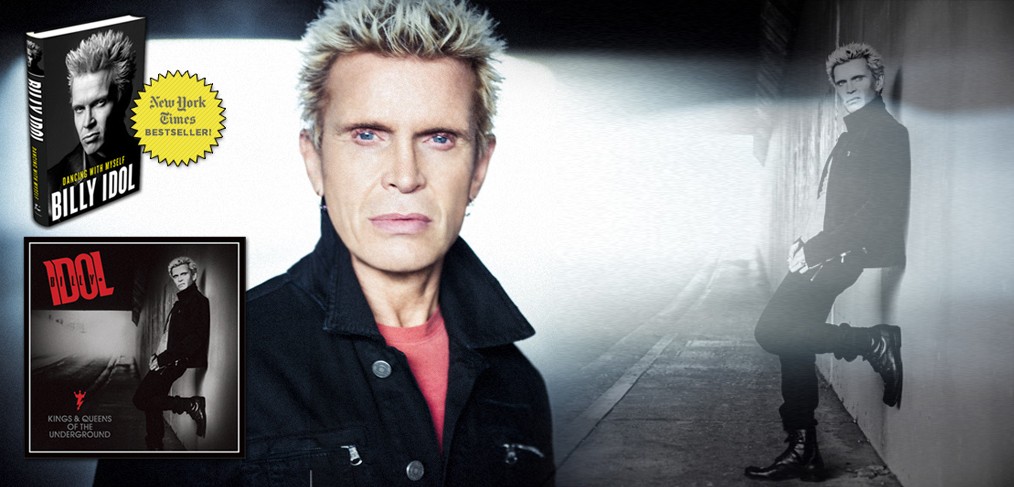 INTERVIEW WITH SYDNEY MORNING HERALD
Billy recently chatted with the Sydney Morning Herald about his new album, Kings & Queens of the Underground, bestselling autobiography, Dancing With Myself and current world tour.


Billy Idol yells about his rocky road
Sarah Thomas–Sydney Morning Herald
March 15, 2015:
Billy Idol's autobiography Dancing With Myself has the vibrant, eye-watering array of sex, drugs and rock'n'roll war stories one would expect.
It dives straight in with an account of the recording of his fourth album Charmed Life (1990), with Idol in the midst of a two-year swirl of booze, pot, cocaine, ecstasy and heroin. The studio was populated by naked strippers and rockers clad only in boots and scarves; the music served to drown out the constant background noise of "sucking and f—ing", he writes.
The day after finishing the album came Idol's nadir: his brush with death. He ran a stop sign on his motorbike, got hit by a car and almost lost his right leg.
"In terms of, say, the motorcycle accident, that really didn't have to happen. That was completely my fault.
"There's things like that in life," he says of wanting to portray a rounded view of himself in the book. "I was facing up to some of the more stupid or daft things I created just as much as the good stuff, and I had to weigh those two things in the balance. I felt I had to own both sides of it – my successes and my failures."
At 59, he's still on stage, sweaty and shirtless with the same peroxide spikes and defiant, brattish sneer he wore in his 1980s heyday, or fronting punk outfit Generation X in the 1970s.
Reviews of his current tour, on the back of his first album in nine years, Kings and Queen of the Underground, say age hasn't dared to go near him.
"It's very exciting to get reviews like we've been getting," Idol says on the phone from the US leg of the tour. "It's fantastic. I like to think it's testament to what we've been doing the last few years." … Read more