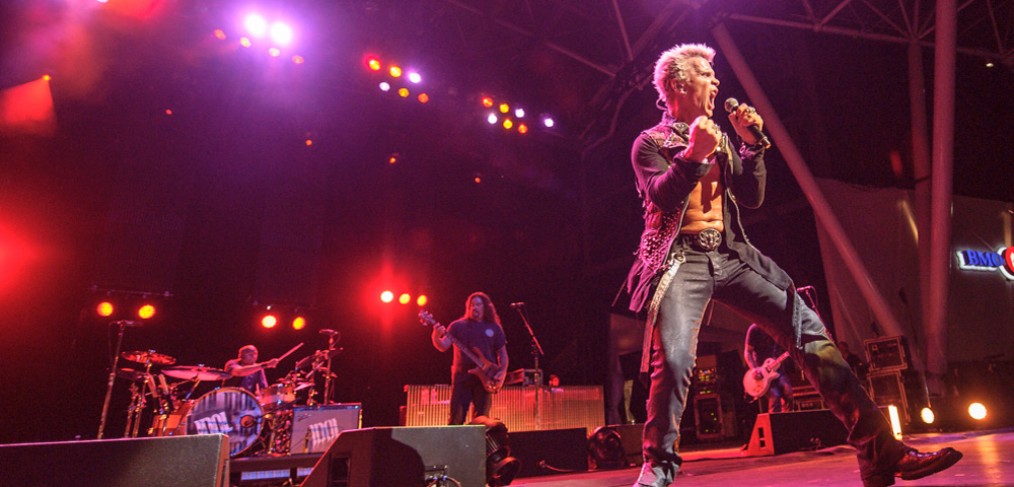 TOUR DIARY #1
EUROPEAN SUMMER TOUR KICKS OFF!
And so the Billy Idol Summer European Tour 2014 kicks off just like pretty much every other tour in the history of touring. At an airport, at an ungodly hour, with most of us severely under-caffeinated. But that's nothing that a gallon or two of LAX's finest roast doesn't cure and we are soon in the air, and winging our way to the East Coast to play three shows before we head off to Europe. Billy is meeting us out there as he's been doing some stuff in New York for his forthcoming book, so it's a slimmer entourage on the plane. Even so, we seem to keep the Flight Attendants busy with witty banter and requests for extra nuts. And who can refuse that request?!?! I choose to watch 'Pompeii' and once I managed to shake the weird confused feeling I experienced watching Jack Bauer playing a Roman soldier with an English accent – (Kiefer does a fantastic job actually) – I kinda enjoy the movie. It's no 'Gone With The Wind' but for a movie about a mountain that explodes, it's pretty good. And just as everyone turns to ash, the tarmac rushes up to meet us and we are on the ground safely and driving to our hotel in Atlantic City.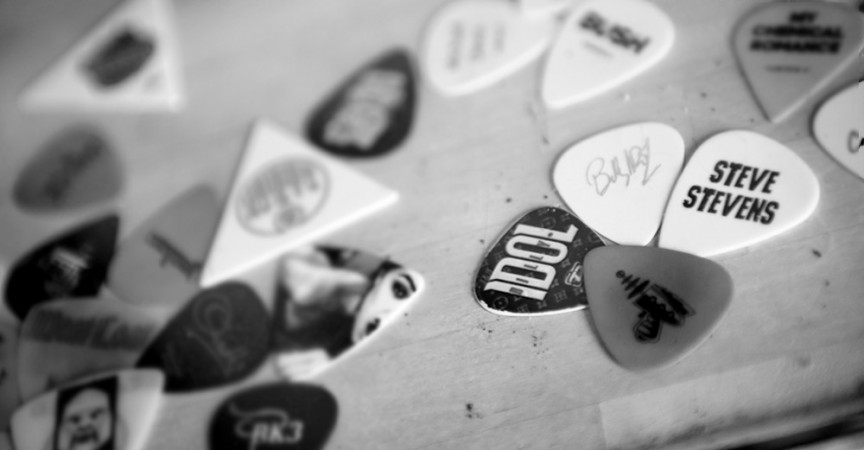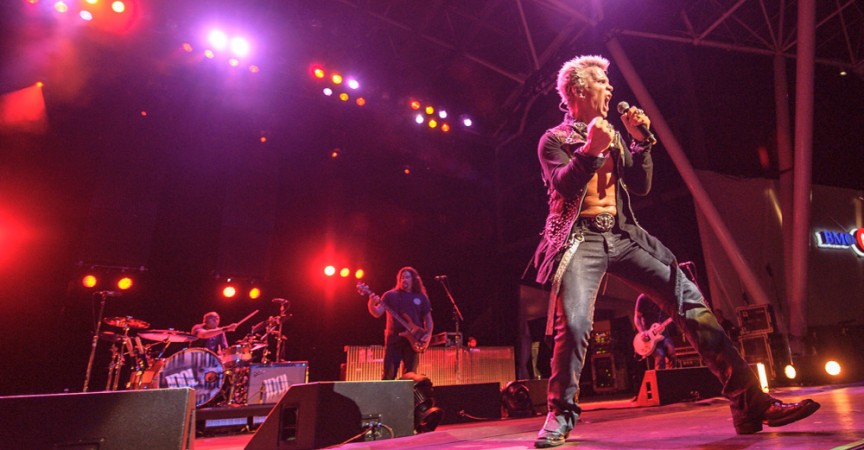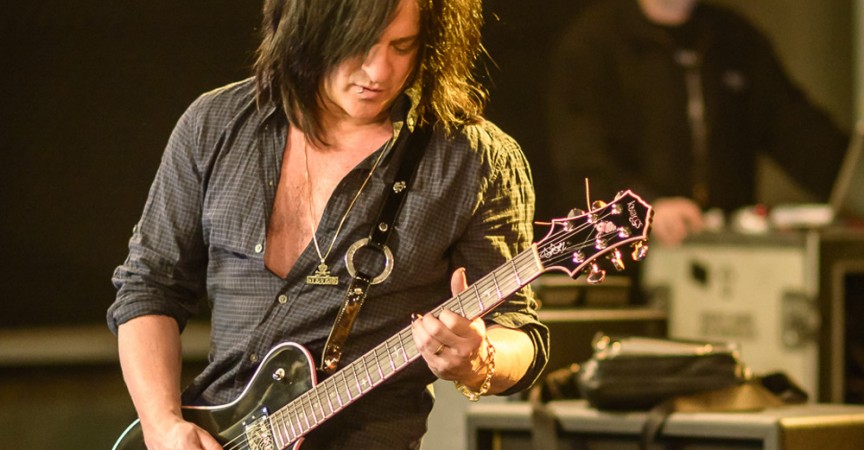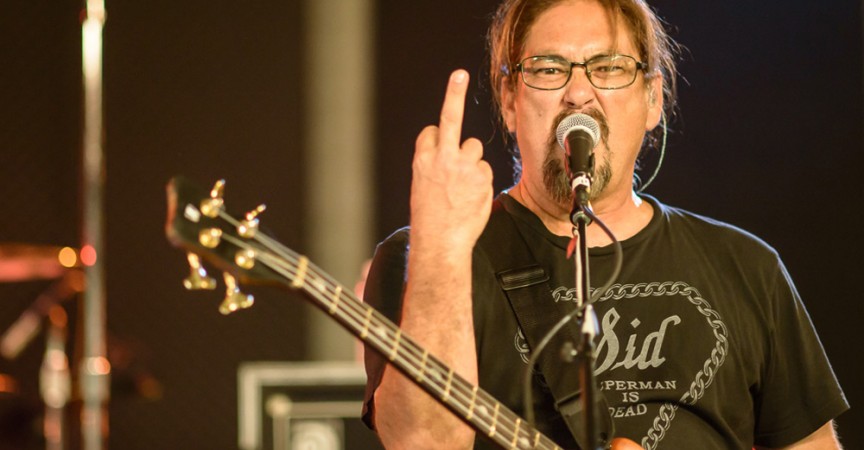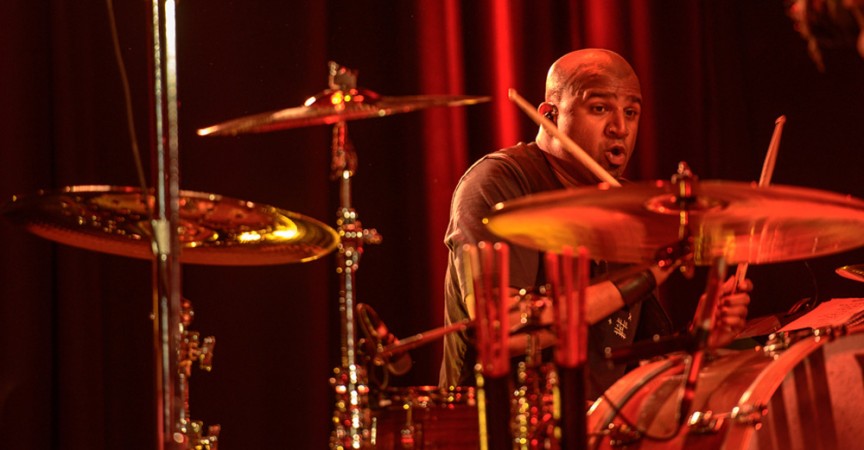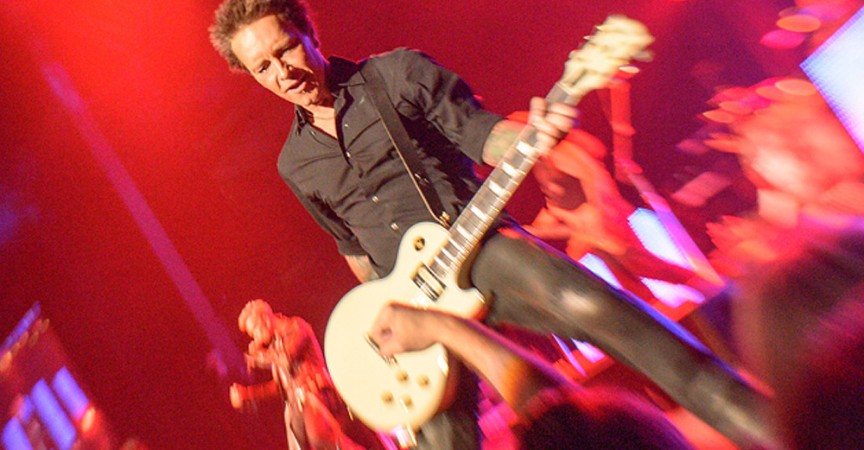 It's an interesting place, this AC. Kinda like a mini Vegas, with the Trump, Caesars and other versions of famous casinos spread all over the place. Neon lights and fountains everywhere, and packed with Jersey Shore type vacationers stumbling around drunk trying to hail cabs. Erik, Paul and myself hit one of the best restaurants I know, Carmines, and despite the plan of 'sharing dishes and not eating too much' we seem to consume huge plates of food. It's only right, really…..when in Rome and all that. Except……wait……we'll be in Rome soon. What happens then? Anyway, I digress. We eat, we waddle out of the place, we collapse in a cab and we head back to the hotel to sleep the sleep of the dead.
The show itself, the first one of this tour, is a mixed bag for me. Technical gremlins abound and shit simply doesn't work! The audience is nice and loud, and it's not THAT bad…… but a combination of personal issues and equipment issues make for a less than stellar first show for me. The band as a whole does great and I think it's a success. It's strange when you don't have a great show personally, but the sum of the parts equals success. Because after the show you're hearing comments and praise that just doesn't seem to fit with your experience. I duck out quickly after we come offstage and hit the sack as soon as I can. I figure that a reset is the best course of action and sure enough I wake up feeling rested, relaxed and ready to attack this again in Westbury.
It's a quaint suburb, with colonial type buildings and store fronts that have "Welcome Billy Idol" painted on the windows. It's a really nice gesture and we do feel welcomed from the moment we roll into town. The soundcheck gets a lot of the gremlins ironed out for me and I feel WAY more confident as the new intro tape rolls. Steve Stevens has created this insanely dark and heavy intro thing that rolls straight into our opening song, "Postcards From The Past" – one of the new tracks from the forthcoming record. It's a big change for us to open with this song and it feels so strong tonight. It's a winner for sure, and the 'One-Two' of Postcards, followed straight away by "Cradle Of Love" is a great way to start the set. I'm having a way better time tonight, and the audience respond to a tight, powerful Billy Idol performance. At the end of the show, everyone in the building is smiling, audience and band alike. NOW it feels like I'm meshing with the vibe and after the gig, I meet a particular someone that has a profound effect on me. I'm not going to name names, in case it isn't appropriate, but I had been contacted by an 8 year old girl and her mother, telling me that the little girl has had some pretty serious health issues but that she is coming to the gig and is a fan of mine. So I arrange to meet them after the show to say hi and "answer a few questions". What an amazing kid! She interviews me, fully, with some of the best questions I've ever been asked. She's cute as a button, funny, kind, engaged…….she has made us all bracelets which she proceeds to give everyone. It was such a positive, grateful and serene experience. My love goes out to her and her family and I'm just really glad she saw the show and came backstage to say hello.
We drive from Westbury to Boston in good moods. The conversation in the car turns to …..um…… Ice Cream (yeah I have no idea how or why!) and the top flavors discussed are Ben And Jerry's Cookie Dough, and Strawberry Cheesecake. The Universe obviously favored the Idol Touring Party tonight because we pull over at a tiny gas station in the middle of nowhere…….and the only two Ben And Jerry's flavors they have are….. Cookie Dough, and Strawberry Cheesecake!!! Ice Cream is procured, devoured, and we hit our hotel in Boston tired, but happy.
The day off in Boston is pretty much spent relaxing and getting over the West Coast to East Coast time difference, and by the time the next morning arrives, people seem in good spirits and ready for the third and final East Coast warm up show before we head out over the pond to Europe. Tonights show is in Hampton Beach, and the drive is a short one. I remember this show from last time here – a very wide room, with subs under the stage that make the sound a little hard to contain. But an audience that is more than enthusiastic and loud as hell. The gig for all of us I think is better than ever – things are gelling nicely and all the new songs sound great in the set. Whiskey And Pills is becoming an absolute stormer of a live song. And the two Gen X tracks (King Rocker and Love Like Fire) never get old. It's interesting actually because none of the songs seem to get old for me. I have no idea what it's like for Steve and Billy, having played them for such a long time. But for me, it's a joy every night. This show gets marked up in the 'Win' column and the next morning I wake up with the long journey to Copenhagen ahead of me. Next week, I'll tell you all about Sweden, Italy and Switzerland. Enjoy your week, be nice to each other, and thanks for reading.
Billy Morrison (Guitar/Billy Idol)