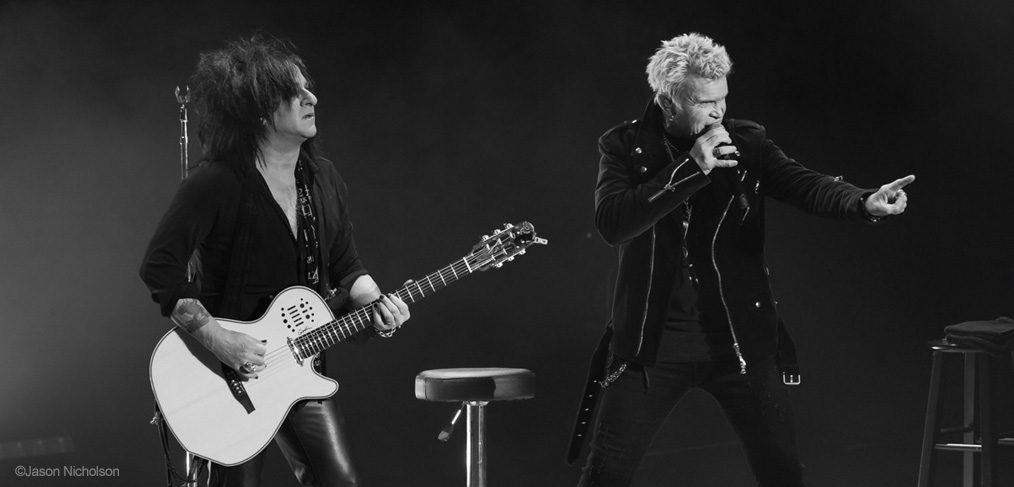 WASHINGTON D.C. DUO TOUR REVIEW
Review of Billy Idol & Steve Stevens Duo Tour – Lincoln Theater, Washington, D.C., April 1, 2019
Mickey McCarter
In the mid-'70s, young William Michael Albert Broad started life as a musician in his punk band Generation X. As a fan of the Sex Pistols, he famously hung out with a group of punks called the Bromley Contingent.
As Spandau Ballet's Gary Kemp once said, the Sex Pistols were made to fade away. By contrast, the man who would become Billy Idol was built to last.
Bill Idol endures through grace — through the wisdom of his own lessons learned, through fortitude and poetry (the louder that poetry the better), and the eternal good will of a legion of fans, some of whom sold out his Monday show at the Lincoln Theatre in DC in a heartbeat. (Billy really should have been at The Anthem, no?)
His rugged good looks and the perpetual snarl of a smile upon his face helped make him an icon, but he endures as a man who is idolized because of his talent. Rock 'n' roll created him, and of all people he would be the one to put it to bed should rock ever wheeze its last breath.
Billy Idol presented much of his loud poetry with his friend and collaborator Steve Stevens on April 1, as they wound down the last few days of a joint tour together. Billy and Steve played some of the songs they created together, perhaps the best of which hailed from Billy's second and third albums, as they stormed the theater with selections from Rebel Yell and Whiplash Smile — "Eyes Without a Face," "Rebel Yell," "Don't Need a Gun," "To Be a Lover," among them.
At the height of stardom, Billy lived hard and fast — crashed and rose again. Along the way, he had a son with one of the most beautiful ladies of the '80s — video vixen Perri Lister. In the end, he was lost and found but came through his bad times an altogether more amazing person and somehow even more himself. Appropriately, he wrote about it all in his 2014 autobiography, Dancing with Myself.
Billy Idol and Steve Stevens have two shows remaining in this acoustic tour together — tonight and tomorrow — but Billy Idol won't be done by a long shot. He'll be back because that's what he does. He rocks. And when he dances, he may dance with himself but also with millions of us, dancing along side him, doing our best to look half as cool.
Follow @billyidol on Instagram: https://instagram.com/billyidol