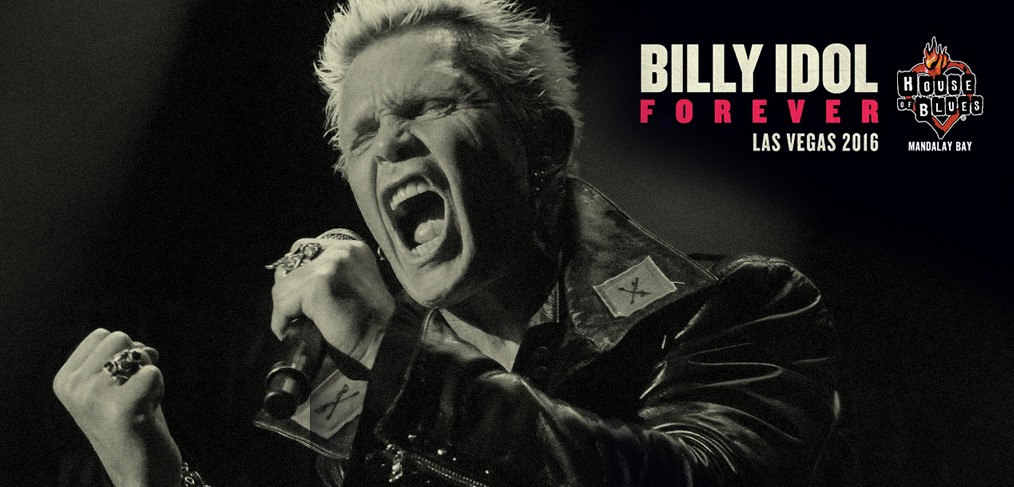 WITH A 'REBEL YELL,' BILLY IDOL FIST-PUMPS HIS WAY INTO LAS VEGAS
By Matt Kelemen, Las Vegas Magazine, March 11, 2016:
The Billy Idol: Forever series of shows at Mandalay Bay's House of Blues isn't just the latest rock star residency in Vegas. It's also the final chapter of Billy Idol's most ambitious tour since his '80s heyday, with guitarist Steve Stevens on board playing Sundance Kid to his Butch Cassidy. The prince of '80s post-punk has been on the road since the October 2014 release of King & Queens of the Underground, his audio companion to autobiography Dancing with Myself, and judging from a high-profile appearance in February's iHeart80s Party in the Forum in L.A., the adulation received on tour is only making him stronger.
The fact that Idol soldiers on at all—let alone while sporting a six-pack that enables him to perform shirtless at age 60—testifies to his status as a true rock 'n' roll survivor. Idol was part of the original pack of Sex Pistols followers and one of many fans that started a band. Generation X outlived the initial blast of British punk, with spiky-haired Idol going against the grain by demonstrating
See More

›